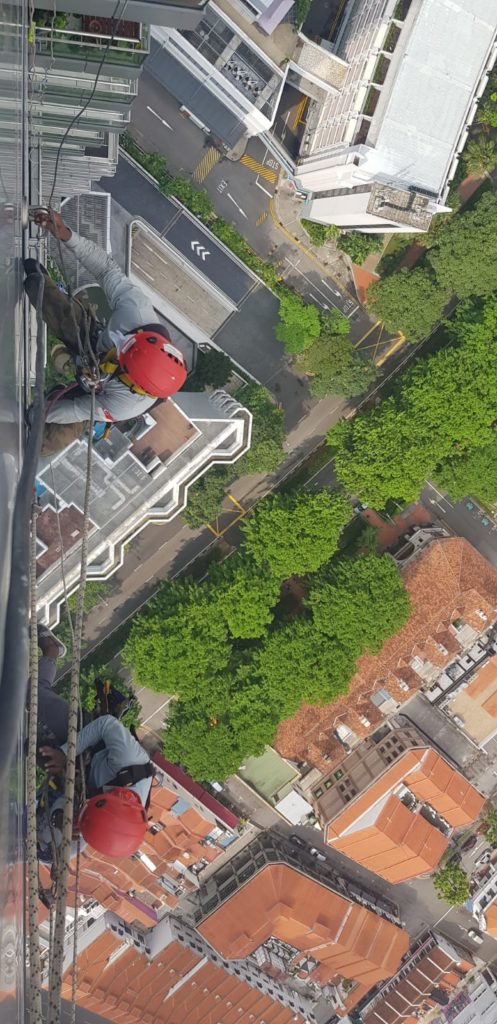 Window replacement is an important project in any commercial building. Windows have been known for increasing the aesthetic view of the interior and exterior view. Windows allow natural light to access the rooms hence reduce the energy bills and make maintenance of commercial buildings easier.
If you are considering replacing windows in your commercial building, consider working with Rope Access Singapore.  We have the best technicians and rope access equipment to make the project easy and achievable. We have the best packages for different buildings. You can contact us today for a survey and get a quotation.
Benefits of Rope Access Window Replacement
Reduces the Energy cost
Window replacement helps to improve the accessibility of natural light which reduces the need to light bulbs during the day. Replacing windows provides a good opportunity for your business to save on energy costs and create a good environment to work. Employee productivity is directly proportional to the brightness of the workplace. Dull environments have low employee productivity.
Safety
Using rope access is safe for window replacement projects. There have been very few casualties in the globe from using the access rope services. We continually improve our rope access services to make sure that they are safe to use. We employ strict safety regulations to ensure that technicians are safe as they work on projects at high heights. You do not have to worry because safety is our main goal and minimize risks and casualties. So the project will go one well seamlessly and take minimal time.
The process will take a short time
Rope access improves the mobility and accessibility of all parts of the building. With rope access service, it only takes less time to be used in a window replacement project. Mobilizing employees is quicker when working with rope access equipment. This means that a task can be quickly accomplished without much preparation. Traditional methods require a lot of preparation which takes more time before the actual project starts. Scaffolding takes several days to set up and to remove. If you want to save time, consider working with Rope Access Singapore.
Reduction of Noise
Most commercial buildings are in busy towns and getting a noise-free zone can be a nightmare. Installing windows to use soundproof glass is highly beneficial. This project is made easy with the use of rope access equipment. Window replacement will help reduce noise hence increase the productivity of the employees.
Efficiency
Rope access is efficient and window replacement projects will carry on effectively without causing disturbance. This means that window replacement can be done as the building is being used. Businesses love utilizing any minute to gain maximum effort. And no business owner wants to close the business to give room for renovation. If the two can run together seamlessly, it will be greatly advantageous. Traditional methods like scaffolding are not efficient because they utilize a lot of time and require a lot of manual work to set up.
Does not cause carbon print
Today, taking care of the environment is significant because of how climate change has been affecting living on earth. Therefore, environmentalists have recommended the use of environmental free techniques in constructions to minimize carbon print in the atmosphere. Rope access is one of the most preferred methods for window replacement because it does not release carbon in the atmosphere. It has minimal waste after being used. So you do not have to worry about dirtying the environment. Contact us today and let us keep our environment clean and minimize the carbon print.
Flexibility
Rope access is flexible and allows the accessibility to different heights to install the windows. It is suitable for vast types of buildings and construction. This makes it a good choice when you want to replace windows in a building. Windows add the aesthetic view of a building and have a positive impact on the brand image of the business. Buildings that have exterior glass windows look attractive and gives the implication that the company is serious. Window replacements are affordable and provide a long term solution to allow natural light to access the interior.
We are highly specialized in rope access window replacement. Contact us today for affordable and reliable rope access services. 
HDB Registered Contractor
License Number: HB-09-5474D