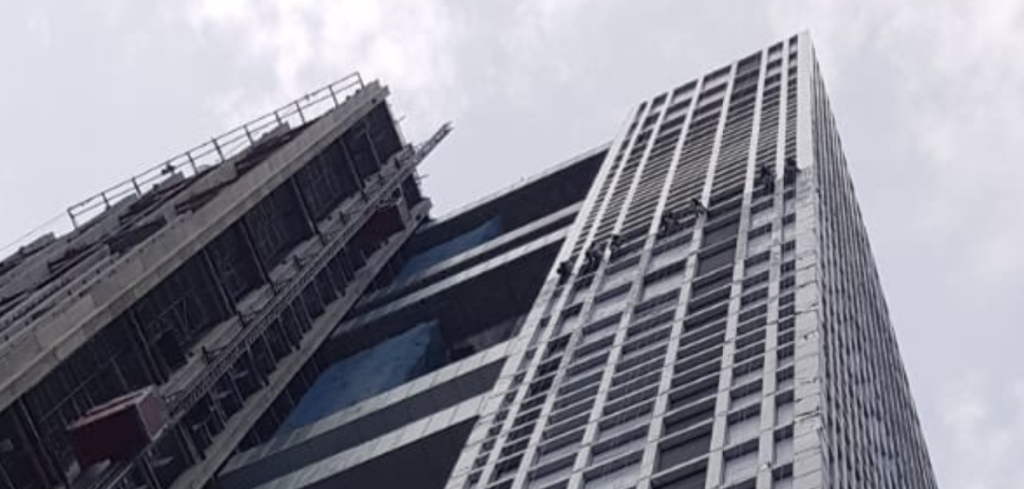 Curtain wall installation is not an easy project without the help of the rope access service. Walls can be too high and difficult to access from the ground. Sometimes a curtain can snag, therefore rope access service will be needed to fix it. Installation of the curtain wall is simple with rope access services that we offer. A curtain wall is a fundamental part of a construction and is inevitable.
The accuracy of the curtain wall installation will be determined by the skill and the experience of the technicians. High-level projects require skilled expertise and coordination to achieve the best results. The company you decide to hire determines the outcome of the project. We will guide you on things to check before you hire a company for the rope access curtain wall installation.
How to choose the best rope access service provider for Curtain Wall Installation
Experience
Check the experience of the company. Find out how many years they have been in business. The many the years, the more professional they are because they have been able to learn from their past mistakes. Also, is the company has survived many years in business is a sign that they know what they are doing and they have been doing a good job. New companies may have cheaper prices because they are still trying out to see what works best. To find out about the experience of the company.
Customer Reviews
Find out what the previous clients are saying about the company. With the internet, it is easy to get these reviews and to know which company has the best reviews. A company with many positive reviews and few negative reviews can be trusted. It shows that many of the customers are satisfied with their rope access curtain wall installation services. You can also get a few referrals from friends and compare the reviews to decide which one is good.
Certification
Find out if the rope access company is registered with the local authorities. This will help you to follow up after the project is done in case something goes wrong. Follow up becomes easy because the records are authentic. If a company does a shoddy work you can get a refund or a free repair service. If you work with companies that are not certified, you are at risk of being conned. You do not want to pay the first installment and the company never shows up to install the curtain wall. To avoid this, consider working with certified companies.
Compare Prices
It is always good to compare prices offered by different companies. Some can be very expensive while others can have low prices. The low prices should not attract you because if the companies have enough expertise they may not put a low price. You can choose the ones that have moderate prices and have good work experience gained over the years. Go for the companies that have good experience in rope access curtain wall installation.
Staff
Consider hiring rope Access Company that has many staff members. This means they have enough capacity to handle the project seamlessly. Also, you will not have to wait for many days before they come and install the curtain wall. Others might be swamped with work and may not give you quality service. Curtain wall installation is a project that needs ample time and commitment to be completed effectively.
Insurance
Find out if the company has insured the employees in case of an accident. The company should be responsible for any accident that occurs during the curtain wall installation. This will give you peace of mind of not worrying about the risks. Working with companies that have insured their employees is advantageous to you.
Always do background research before settling down for a specific company to work with. This will help you to build confidence in the company you choose knowing that you will get the best results.
Rope Access Singapore is fully experienced, we have skilled technicians, we are licensed, and we have insured our employees. If you have been looking for rope access services, your search has come to an end. Contact us today and get the quotation for rope access curtain wall installation among other services.
HDB Registered Contractor
License Number: HB-09-5474D