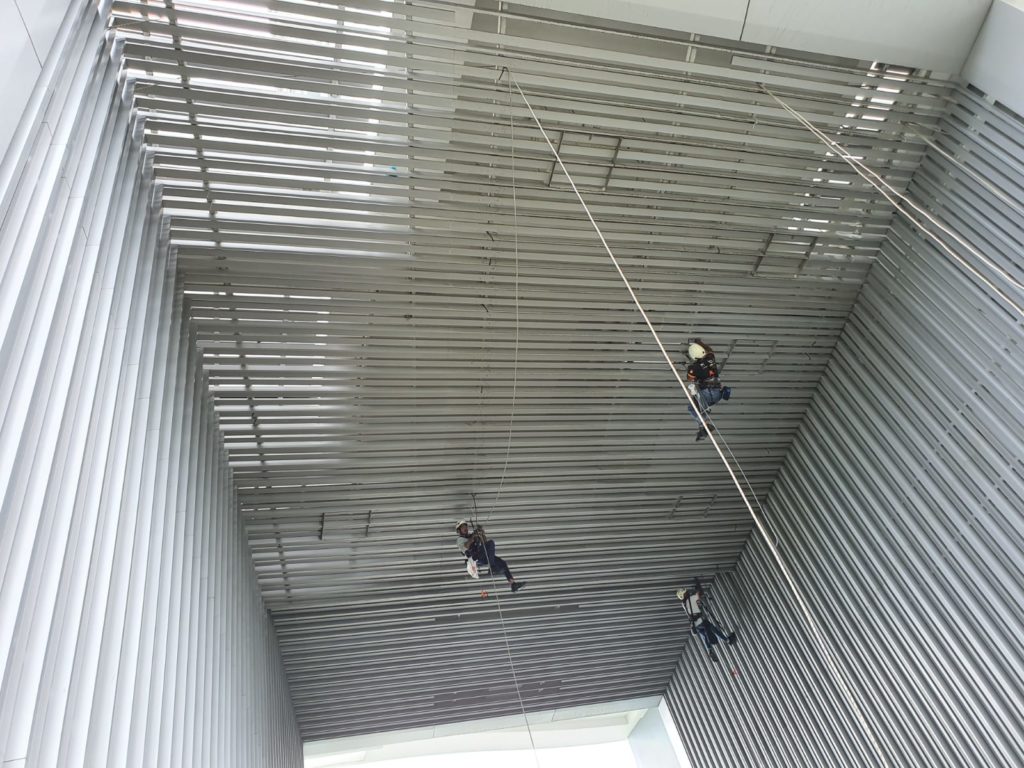 Facade inspection is needed at least once in every five years. This inspection is needed to check the quality of the building and to check if any repairs are needed. This approach was endorsed after the occurrence of buildings cladding or windows falling. The research was done and it was known that if a building is not inspected, cracks may lead to a major debris falling which will potentially leads to loss of lives and properties. To minimize the occurrence of such accidents, facade inspection is recommended for all commercial buildings.
Facade inspection is a safety program that needs the walls of a commercial building to be inspected and to check the stability. You will need to hire a professional who has the license for facade inspection. Unsafe areas are identified and are set up for repair immediately. The facade inspection report determines whether a building should be determined safe or not.
Benefits of Rope Access Facade Inspection
Legislation purposes
It is according to the law of the land that a commercial building to have a facade inspection at least once in five years. This is to make sure that the building is in good condition according to what the laws state. If safety is affected the building is set up for repair. If the risk is beyond repair, the building can be condemned. This is why it is important to have facade inspection regularly to make sure that the building is in good condition and take care of any areas that need repair.
This is why you need to entrust the job of facade inspection to experienced technicians. The report is an asset and important for legislation purposes.
Accessibility
A successful facade inspection will need rope access services. Traditional methods like scaffolding were limited and were difficult to use. With rope access, high areas become accessible. This means facade inspection will be done thoroughly and check all risk factors. A thorough facade inspection will be done and an official report will be written. The report will involve recommendations for any repairs needed and give a full status report of the building. the report is an important document because the legal representatives will check it to see if you comply with the rules.
Quick and Cost-effective
Rope access facade inspection will take the shortest time possible to complete. We have trained technicians who know what to check during the inspection and how to access the building. Our team members are trained on how to do facade inspection and have a license to carry out the task. Facade inspection is an important task for any commercial building and is critical. Therefore, you need to hire experienced and licensed technicians.
Rope access service will save you cost because it will minimal amount of employees. Traditional methods were considered costly because they took a lot of time and needed more people. This means that there are more people who need to be paid. If you want to save on cost, consider rope access services.
Transparency
Rope access facade inspection encourages transparency. It is a flexible method of accessing high heights. Transparency helps in checking all areas and identifies any possible risks. Repair and maintenance after a faced inspection are important because the report will highlight possible areas that need attention.  Risks need to be managed as soon as possible to get the best results after the inspection. We understand that facade inspection is important, so we aim at giving you the best inspection and report. Our technicians are highly trained to conduct this activity and you are assured of getting a certified facade inspection report.
Identifies any issues
Rope access facade inspection aims at identifying any issues with the building and recommend repair and maintenance. It is easier to repair cracks and replace joints rather than experiencing a building collapsing.  Collapsing of a building causes great loss to the building owner and the business. Constructing a new building is more costly than paying for maintenance and repair. This is why facade inspection is a legal requirement for tall buildings to check their safety.
Contact us today for the rope access facade inspection services. We have all the tools necessary to make sure that the inspection is successful; not forgetting our experienced technicians. 
HDB Registered Contractor
License Number: HB-09-5474D