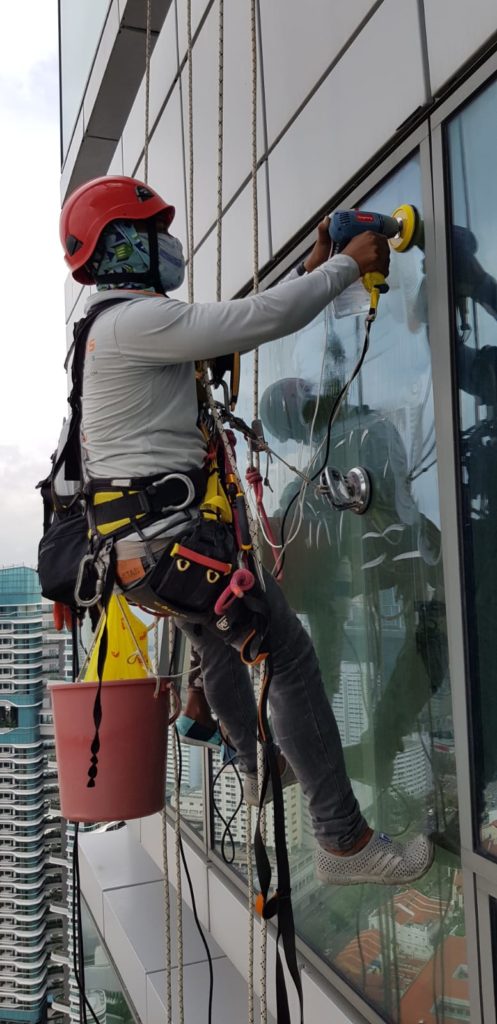 Rope Access Singapore offers glass and glazing services at the most affordable cost. The rope access services are highly beneficial because it is flexible and can be used to reach high heights. This is why you should consider the rope access glass and glazing works services. We repair and install glass windows in commercial buildings. We also provide glazing and glass polishing services to commercial buildings. Polished glasses improve the physical appearance and boost the brand image of the company. We are always ready to provide maintenance services at any complicated construction because we have rope access services.
Reasons why you should work with Professionals
Quality Technicians
Our glazing technicians are highly experienced in using the rope access and to install, polish and maintain glasses. The glass and glazing works are as important as the entire construction. Therefore, you should consider hiring a professional. A professional will always have the right experience and the right knowledge about what type of glass and glazing material to use. If you work with a non-professional, you are likely to get a shoddy service that is not durable. This will cost you extra coins to hire a professional to rectify the mistakes.
The Professional knows where to get the right Glazing Products
There are many products and brands in marketing because of the increasing demand for glazing and glass products. Not all of them are quality and durable. Only a professional will be able to know which brand produces the best glass and glazing products at the best prices. This will give you peace of mind because you will know that the task will be completed successfully at an affordable price. It will also save you the time of moving around comparing different products and prices. A professional already knows where to get quality products at the most affordable prices.
High Level of Code of Conduct
Professionals have a high level of code of conduct and provide customers with the best rope access services. The professionals have been trained in the best code of conduct to observe professionalism during work and provide services with honor and respect. If you work with a non-professional, it will give you a headache because their dealings are not professional and you will always be worried about the outcome. Sometimes it may need you to supervise the project instead of resting and waiting for the job to be completed. At Rope Access Singapore, our technicians are well trained on the code of conduct. We value professionalism and we provide the best glass and glazing services to our customers.
Maintenance Warranty
Professionals in rope access glass and glazing works will provide you with a maintenance warranty. This means, if anything occurs within the agreed warranty period, they will provide you with free repair and maintenance services. This gives you an assurance that the professionals know their work and is confident in what they are doing. It will build your confidence in the company you are hiring and have peace of mind that the job will be done well.
A maintenance warranty will protect you from experiencing a bad experience in case glass breaks with a short period of time. The glasses installed should be durable and should last many years because no one likes replacing glasses every year. It is expensive.
Dispute and complaint procedures
Professionals have a procedure for filling disputes and complaints. If after the glass and glazing project is complete and you are not fully satisfied with the results, you can raise a dispute or a complaint. So the company will send the technicians to check and the issue and correct. This is why you should always check if the company is registered for such events. It is difficult to trace unregistered companies.
Rope Access Singapore is fully registered and we offer solutions to customers' complains and disputes. We provide a maintenance warranty to our customers. Our aim is to provide the best services to our customers. This is why we work with experienced and trained professionals to provide rope access services to our customers. It is a vital service for every commercial building or tall structures.
Contact us today to find out more about our rope access services.
HDB Registered Contractor
License Number: HB-09-5474D