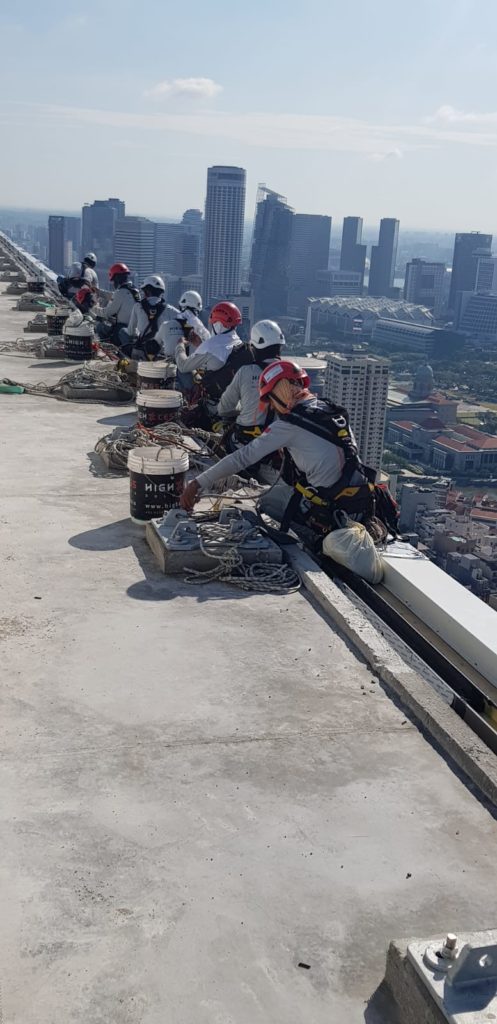 Rope access painting and spray painting services are crucial to the complete construction of buildings. Rope access service has made it possible to paint high areas of a commercial building and billboard structures. Paint application of high buildings needs to be done under safety and regulation measures. This is to ensure that the technicians are safe as they suspend in the air and do the painting.
Using our rope access painting services will help to paint all walls including the rooftop. Scaffolding and other traditional methods are limited and can make the project more complex and exhausting. Rope access services make the completion of building projects a success. Here at Rope Access Singapore, we have the best technicians and equipment to work at high height projects.
Challenges when dealing with heights for painting
Fear of heights is a common challenge when working with high construction projects. This can discourage people. This is where our services come to help because we have rope access equipment and trained technicians. If your team is afraid of heights, you can work with us.
Painters are concerned about their safety and the safety of the people passing by the project. Therefore, it is important to higher approved rope access services. Our equipment and ropes are safe and are constantly inspected to make sure that they are in good condition. Therefore, the painting service will go on well.
There is a challenge for attention to detail in high heights. It is easy to paint a wall that is easily accessible and reachable. When it comes to high areas that are difficult to reach, attention to detail becomes a challenge. This is where rope access painting and spray painting service is needed to ensure that painting is done in all areas. High areas need to be painted to achieve uniformity and to improve the aesthetic view of the building. Rope access services help to reach high points that are difficult to reach.
It is challenging to have a flawless communication among team members when working in high heights. To have an efficient communication plan, you will need a rope access service. Also, weather conditions such as sleet and icefall can increase the sliding risk of the paint. However, our rope access equipment is durable and secure to use in high heights at different weather conditions.
Why you need Rope Access Painting and Spray Painting Service
Accessibility
Rope access services make it easy to reach high heights and to make sure that painting is evenly done in all areas. High heights such as rooftops need painting too.
Saves cost 
It is cost-effective to use rope access service than using traditional methods such as scaffolding. Cranes are also expensive to use for a painting project because they need a lot of energy fuel to run them.
Saves time
Rope access service needs less equipment and personnel to operate. This means that the painting project will take lesser time as compared to when using traditional access methods.
Environmental friendly
Rope access does not need energy fuel to operate. This means it does not produce carbon print which is hazardous to the environment. Rope access is environmentally friendly and highly recommended to many high height projects.
It is Safe
It is a safe method to access high heights as compared to the scaffolding. Even technicians who fear heights are comfortable to use the rope access services. Traditional methods are limited and face safety challenges. This is why you need to consider the rope access painting and spray painting services.
Easy to setup
It is easy and quick to set up rope access equipment on a site. It is also easy to remove them when the project is done. It does need a lot of people to set up the equipment on a site. It also uses minimal equipment to complete a painting task. The good news is that rope access is environmentally friendly.
Attention to detail
Since it is easy to access high heights, it is important to have a uniform painting. It helps to access all areas and paint according to the requirement of the project. External painting is as important as internal painting. Attention to detail is advantageous because the building will look beautiful. 
HDB Registered Contractor
License Number: HB-09-5474D