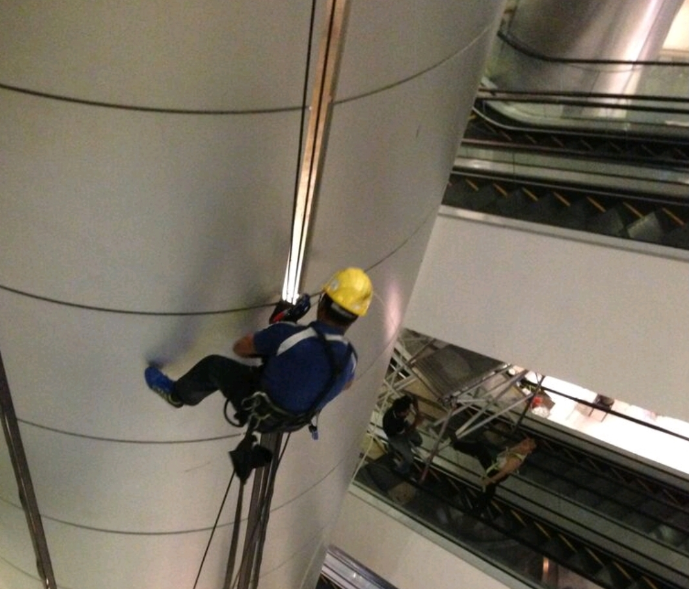 Rope Access Singapore has technicians are highly experienced and skilled to carry out electrical installation and repair works at different heights. Installation of electrical cables can be difficult without the rope access service to reach high heights. We have the necessary electrical installation and repair permits which allow us to run the electrical projects.
The following are some of the electrical installation and repair services we provide:
Installing and repairing electrical cables
Repairing and installing light on high heights parts of the building
We also install the automatic lights that turn on and off within set time to save on energy costs
We repair and install panels, cables and power switches at different heights in buildings and structures.
Rope access to electrical installation and repair is a reliable method because it is not bulky and needs minimal equipment. Electrical installation and repair are inevitable in buildings because the lighting is an important factor. The use of ropes to access heights has been a reliable method over the past years and is preferred to traditional methods that need a lot of equipment. Rope access services have evolved over the years and reduced man-hours and are cost-effective.
How to Hire Rope Access Technicians for Electrical Installation and Repair.
Professionalism
Check the professionalism of the company before hiring. You can know the professionalism of a person by how they speak on the telephone and how they handle your issues when making enquiring. A good company will allow you to book an appointment with them so you can have a one-on-one session with electricians. This is a sign of transparency and integrity of the company because they want their customers to know their physical location. After making a call, ensure you visit the offices and know more about the company.
Certification
It is important to work with technicians that are permitted to do electrical installation and repair works. Ask about the certification of the technicians and confirm with the local authorities. Electrical installation needs a skilled and certified person for safety purposes. Poor electrical installation and repair can be costly and can damage a building. A good technician will have the right certification and qualifications.
Experience and Skill
After checking the certifications and qualifications, check the experience and skill of the technicians. Working with an electrician who has no experience can be a shortcoming for your electrical installation and repair project. Trained and experienced technicians will give you quality installation services and repair.
You can know the skill of a technician by checking reviews from previous customers. Customer reviews are a good source of knowing the skill and suitability of a technician. At Rope Access Singapore, we have experienced and skilled technicians to handle the electrical installation and repair projects.
Cost
The cost of the project is important. Understand all the costs that are needed to complete the electrical installation and repair. This will help you to avoid any surprise costs that you may not be aware of.
Compare the package from different service providers and check against the skill and certification of the technicians. This way, you will be able to choose a service provider that will fit your budget and get quality and reliable services.
Insurance
The technicians should be insured to avoid financial losses to your business. Always insist on working with insured electricians to prevent liabilities. Never assume that everything will go on well. Accidents are never planned. To be on the safe side, work with insured technicians. You will have more peace of mind and know that the technicians are covered.
Referrals
Referrals can be a good source to get good rope access to electrical installation and repair service providers. Friends can refer you companies that they have worked with before. You will get testimonials of different companies and compare them to know the one that is good for you.
Always do a background check to know the best company to hire. Do not be in a hurry because electricity installation and repair is a crucial factor for every building. If the installation goes wrong, it can cost you a lot of money to repair the faulty work. Know the entire cost before signing a work contract. Some companies can surprise you with an extra cost at the end of the project.
HDB Registered Contractor
License Number: HB-09-5474D