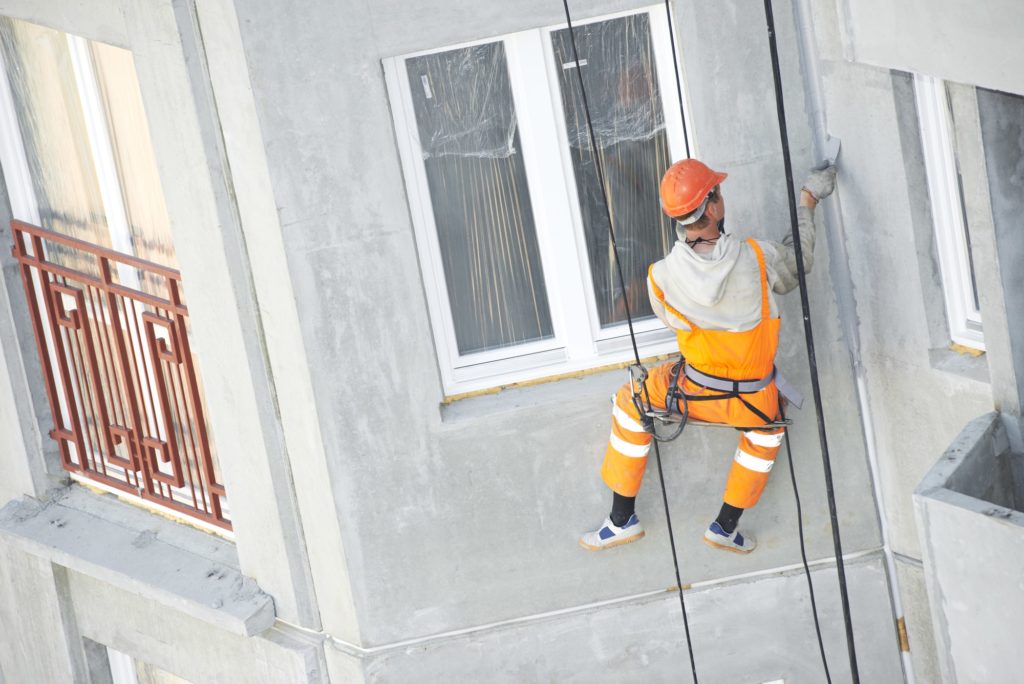 External facade waterproofing is essential for protecting a commercial building from water ingress. Moisture can damage the external appearance of a building after it accumulates for a long period of time. It is not the heavy rains that affect the external structure, but the accumulation of moisture. This leads to mold growth that can result in intense repair work is not removed. This is why external facade inspection is important to check such things and correct them before they cause major destruction.
One of the ways of protecting the building from such repair works is by doing the external facade waterproofing. This helps to strengthen the resistance to moisture accumulation and infiltration.
Why you need to work with us for External Facade Waterproofing.
We are a professional company. We will ensure that the waterproofing is done well and that your building will be protected from water ingress. Always consider working with a professional company if you want to get the best out of the waterproofing services. This is a complex service that needs experienced personnel and those who know how to do it.
Our company will use the best waterproofing materials to make sure that the outcome is long-term. Commercial buildings need long term solutions to prevent water infiltration. This is because they are almost permanent structures in towns and cities.
Working with a professional is cost-effective because you will only need to pay once for the entire project. If you work with inexperienced personnel, the project will be costly because the waterproofing may not sustain a long period of time. If not done right, it can cause major repairs. This will call for additional costs.
Benefits of External Facade Waterproofing
The main advantage of waterproofing is to prevent water damage and seepage from destroying walls and any concrete structures. Moisture accumulates on wall surfaces over a period of time and can cause cracks and mold growth. If not corrected, it can lead to intensive repair that can be highly costly.
In every construction, waterproofing is needed to protect the structure and make sure it is safe from water seepage. Waterproofing provides a long term solution to protect the concrete wall from mold and cracking. This is why it is highly recommended for buildings to have external facade waterproofing.
Waterproofing helps to minimize loss of energy from the building hence reduce energy consumption. Thermal balance for every building is important and achieving it without the use of cooling systems is beneficial. Cooling systems can increase the overall cost of energy and save your annual expenses. This helps to minimize cracks that are caused by extreme temperature changes. Waterproofing helps to regulate the temperature and keep a suitable environment for people to work.
The waterproofing has been made easy and manageable by the presence of rope access services. The traditional methods are limited to height and may not provide good support to reach high heights comfortably. Rope access service is advantageous for external facade waterproofing.
Waterproofing protects the external structure of the building. Waterproofing material protects water from penetrating through the wall and keeps the material dry and in good condition. Continuous disintegration of external appearance can lead to intensive repair. The repair can be expensive. This is why it is highly recommendable to consider waterproofing services for the long term survival of the buildings. If water is not prevented from seeping through the building, the building can be condemned until possible solutions are put in place. Instead of waiting for it to get to this point, hire us today for external facade waterproofing.
Waterproofing is a long term solution to commercial business. External waterproofing protects interior design because water will be prevented from seeping through. When water seeps through the external walls, it affects the interior décor by causing molds and causing coldness in the rooms. This makes maintenance of the building expensive because of using heat to regulate the room temperature. This increases the cost of energy used to keep the rooms warm.
Water damage can be devastating for a building. The routine inspection helps to check any slight water damage and correct before it becomes destructive. The routine of checking the state of the building can be achieved with the rope access service.
HDB Registered Contractor
License Number: HB-09-5474D