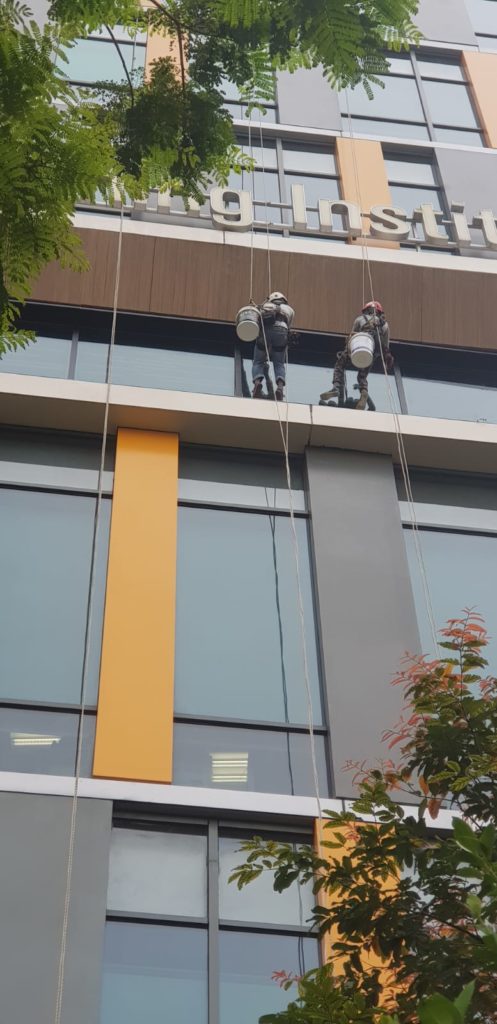 Window cleaning is important because it helps to create a clean environment. High buildings need window cleaning too even though the glasses can be high and difficult to reach. With rope access services, cleaning windows at high heights can be safe and quick. This can be done seamlessly as the building is being used. Rope access window cleaning is an effective solution to many commercial buildings.
Our technicians are highly skilled and trained to take different rope access tasks and to supervise window cleaning projects. When you are looking for a rope access window cleaning company, consider hiring Rope Access Singapore. Our team members are highly trained and maintain high standards of work.
Benefits of Rope Access Window Cleaning
Safe Practice
Using rope access services for window cleaning is a safe practice that is highly recommended for commercial buildings. The traditional methods have higher risks than using rope access services. When you work with us, we ensure that all the windows are sparkling clean and highlight windows than need replacement. Windows at high points tend to be overlooked and some could have broken. During the cleaning process, we check the state of the windows as well.
Solution to Heights
It is challenging to maintain cleanliness for tall buildings and structures. Since it is difficult to access the high heights, the windows can be overlooked. The good news is that we offer rope access window cleaning services to make sure that all the windows are cleaned. Do not worry anymore about the windows that are high. We have sufficient equipment to run the cleaning project. Clean windows improve the aesthetic view of the building.
Time and Cost-Effective
The traditional methods take a lot of time to set up and to do the cleaning. It also requires a lot of people to work on the project which makes it expensive and time-consuming. It might also cause interruptions in the building as traditional methods are noisy. If you want to save time and cost, consider working with us for the rope access window cleaning projects. We will take minimal time to complete the project and the price is affordable. It is always good for a business to save costs on recurring expenses like window cleaning.
Efficient equipment
The equipment used for rope access window cleaning is easy to install and uninstall. This means that the project will cause minimal destruction. This means that the cleaning can be done while the building is being used. Businesses need not to close because of cleaning windows. Rope access window cleaning is a good solution for busy buildings that hold many offices. The process is also not noisy; therefore there will be minimal interruptions.
Flexible
This service is flexible and can be easily rescheduled in case of extreme weather conditions such as heavy rain. Rearrangement plans can be easily made. This is unlike the traditional methods that are difficult to re-plan in case of extreme weather conditions. The traditional methods take a lot of time and work to uninstall and install. Rope access services are highly beneficial and significant in cleaning windows for tall buildings.
Efficient
It is efficient to hire experts in rope access window cleaning to do the job because it is efficient and reliable. You do not have to worry about the high placed windows that are difficult to reach. All the windows in the building can be reached and cleaned as the building is being used. You do not need to vacate the building for the cleaning to take place. It can run seamlessly as the building is being used. So do not worry about any disturbances or interruptions. Rope access window cleaning is efficient and effective.
Rope Access Singapore provides a wide scale of services for tall buildings. We are here to make maintenance/repair, inspection, and cleaning easier for you. Contact us today to get high standard services. Always consider working with registered and approved companies. You might need reports after inspections are done to submit to the local authorities. The authorities only recognize reports from registered and approved companies. This is why we highly recommend you work with us to achieve the best results from our highly trained technicians.
HDB Registered Contractor
License Number: HB-09-5474D