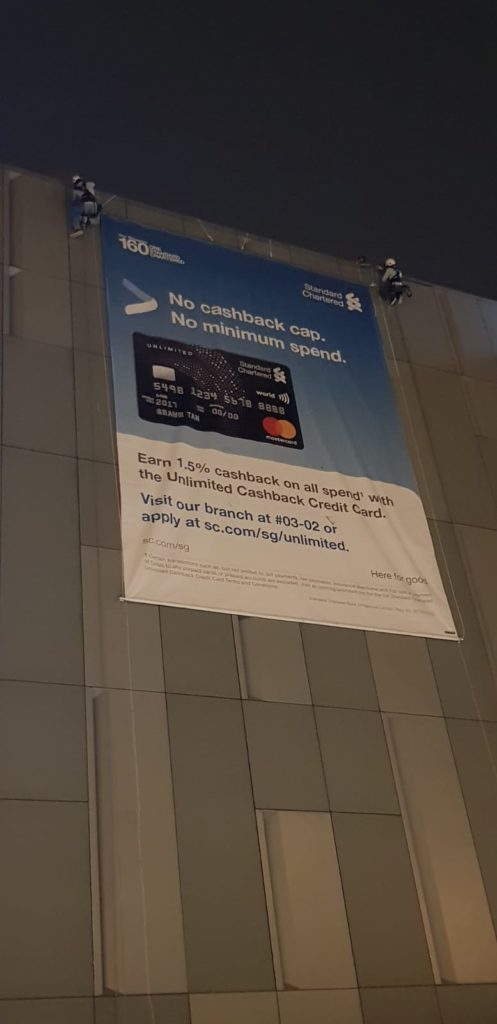 Rope access service has made it easy to install and remove banners even at very high positions. Banners can be attached to tall buildings or tall billboards. Our experienced technicians are highly experienced and skilled in all aspects of banner removal, installation, and maintenance. Our rope access banner removal and installation service are cost-effective and reliable. You can count on us anytime you want a banner installed or removed.
Our Rope Access Banner Removal and Installation service
The first step is to assess the condition of the structure or building and identify the best spot to place the banner for clear visibility
Safety and risk assessment is inevitable because when dealing with heights, the safety of the technicians is inevitable. We care about the safety of people around the building as well because most of the time we install or remove banners in areas that are still accessible by humans
After these two processes are complete, we come to remove and install a banner. When installing, we make sure that the banner is fitted well and is visible. The aim of installing a banner is to make sure that whatever is written is visible to people. Banners are used as marketing strategies for businesses
We have an emergency line for banner maintenance. In case of any unusual outcome, you can contact us immediately and we will send our team on the ground to sort the problem. However, we aim at giving you the best services that will benefit you for a long term period
The advantages of Rope access to Banner Removal and Installation Services
Safety
Safety is the main point that comes in the mind of many people when they hear rope access services. Many people ask if it is safe. Others do ask what can happen if the ropes break? The question of safety is also our main concern and we assure our clients that our rope access equipment is safe and reliable. Our technicians will be able to install or remove a banner at any heights. Height is not a limitation anymore because we have advanced our equipment and no longer use the traditional methods. Rope access services are safe and reliable.
Marketing benefits
Banners have become great marketing assets for many businesses, especially in busy towns. Businesses want to be visible and to make sure that customers will remember them even when they leave the premises. One of the best ways to achieve this is by installing a banner. Banners can be placed in buildings or billboard structures. We advise our customers in the best position to place the banners to attract more potential banners.
Installation takes minimal time
With rope access service, installation and removal of banners process have become short. Rope access services are easy to use when installing or removing banners. So if you need a banner to be removed or installed urgently, you can rely on our services. Rope access is reliable because it needs fewer technicians and less equipment; unlike traditional methods like scaffolding.
Efficient
Rope access banner removal and installation are efficient because it has minimal interruptions. The process is seamless and reliable even for busy buildings and streets. Installing rope access equipment is easy and installing them as well. The installation and removal operation will be done within a minimal timeframe. It is a reliable option for anyone who wants a banner to be removed and installed within the shortest time possible.
Protects the Environment
One of the most challenges in the environment is carbon print and waste management. The waste release is inevitable during any construction. If you can get a way of minimizing waste materials when removing and installing banners, it will be a good strategy. The good news is that the rope access services release minimal waste as compared to the traditional methods. In addition, rope access does not use fuel as a source of energy. This means that there will be no carbon dioxide released in the atmosphere. The rope access service is environmentally friendly and highly recommend in all parts of the world.
If you are looking for efficient rope access service providers, consider Rope Access Singapore. We value quality and reliable services. Contact us to find out more about the rope access services. 
HDB Registered Contractor
License Number: HB-09-5474D