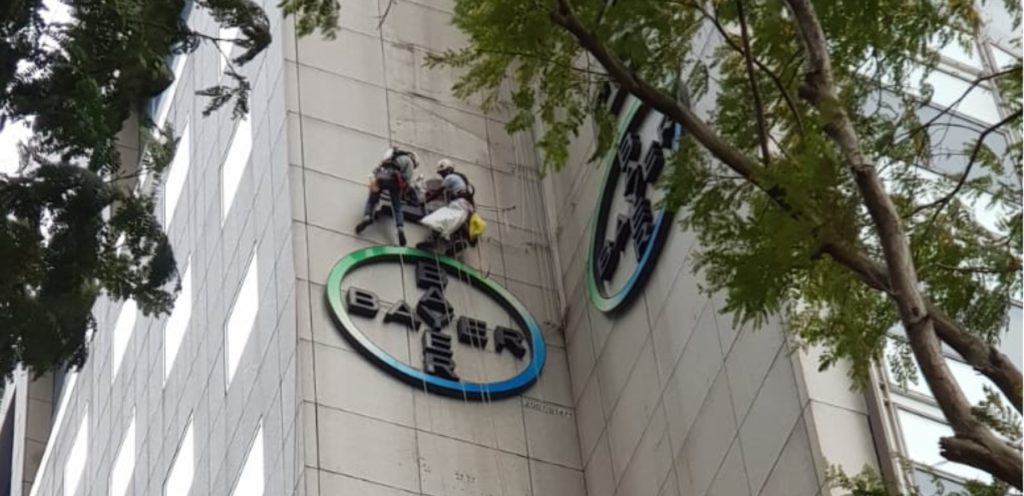 Banners and signs need to be placed at the highest point of a building for clear visibility. Our team is experienced in knowing how to install and remove signs and banners from buildings. The rope access signage removal and installation involve surveying to determine the method of installing signage, estimating the fitting size of the banners, and find out the best position for the signs to be installed. We offer the best and most accurate signage removal and installation to make sure that the company maintains its brand image. Rope access is a great alternative to scaffolding which is expensive to use.
Maybe your business just moved in into a new building, you will need to remove the old signage and put new signage. Or your company needs rebranding. All these services are included in our company. Signage is an asset that increases visibility and can attract potential customers.
Why do you need Signage Removal and Installation?
For Increasing Visibility and Branding
Customers love to be associated with companies that are prominent and branded. Eye-catching signage is placed at high points of a building. The high points can be accessed by using the rope access service. Building a strong brand image is beneficial for your business.
Competitive Advantage
A business is able to gain a competitive advantage by having a signage installation. Most companies have understood the importance of branding and using signage to become more visible. Therefore, you can consider hiring us for this service to give you the best signage removal and installation service. Signage will give you a unique attraction from potential customers.
Direction
It is easy to direct customers to a business that has visible signage and branding. Signage increases awareness and is a marketing tool as well. This will improve the experience of the customers because they will not get lost as they are looking for a business location. It will be also easy for customers to refer to other customers. Customers prefer branded companies to others.
Signage is Cost-Effective
Signage installation is a cost-effective marketing strategy because it does not require maintenance or updating. Once the sign has been placed, it can last a lifetime with no extra charges. Whether it rains or not, the signage will still be visible. So signage installing is a good investment for any business willing to build its brand image.
Signage is a permanent marketing sign
Signage will market the business throughout the year. It is not limited to time. So it is a constant marketing sign that attracts potential clients throughout the year. Signage is like a land sign for the location of the business that is not affected by time or changes in weather seasons. If you are looking for a way of installing signage, contact us for our rope access services. Signage will help your business become more profitable and have a competitive advantage over other businesses. Signage will help customers to constantly think about your business and they are more likely to remember it.
Signage will attract customers on impulse. When customers see an attractive post, they are more likely to stop and buy items on impulse. This will help your business to gain a great awareness and popularity among customers.
Rope Access Signage removal and installation services are highly beneficial because it is cost-effective because it needs one-time cost. The signage is a good marketing tool because it can serve you through the year with no additional cost. The service will take a short period of time to remove and install the signage. You do not have to worry because we are highly experienced and understand this work. We provide quality and long-lasting services. Another advantage of using rope access is that the signage will be placed at the most visible point. Height is not a limitation because the rope access service is flexible and suitable to access high heights. If you want to have visible signage installed at the peak of your building, contact us today.
Rope Access Singapore has the best technicians who will ensure that the removal and installation are done accurately. We understand the importance of building a strong brand image for companies. Contact us today.
HDB Registered Contractor
License Number: HB-09-5474D