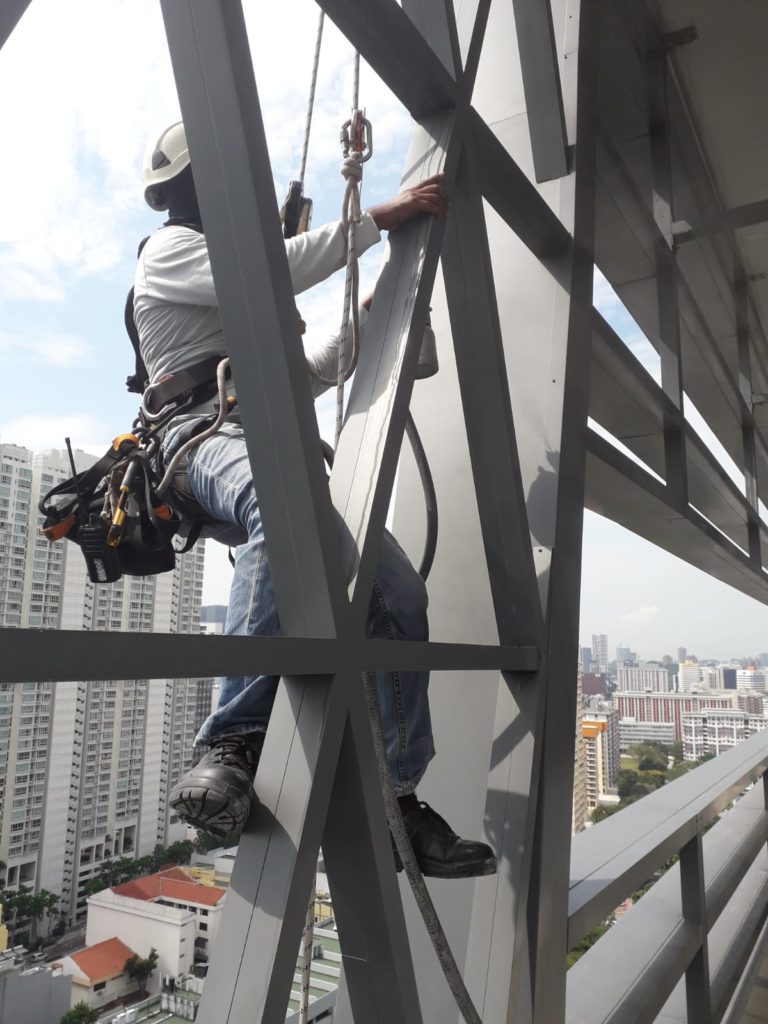 Inspection for loose panels and defects must be done by qualified, experienced, and skilled technicians. In addition to this, the technicians need to have knowledge of operating the rope access tools to access high heights. There is a need for having accurate information after cladding and defect inspection. This is why you need to work with skilled professionals. The success of the cladding inspection will depend on the accuracy of the cladding and defects inspection. Rope Access Singapore has qualified and experienced technicians to do a perfect cladding inspection and give recommendations on areas that need repair and maintenance. Successful repairs are done after an inspection has been done.
Why you need to work with an Expert
Most of the contractors do not include cladding inspection during construction which makes the building vulnerable to disasters such as a fire. Our job at Rope Access Singapore is to carry out this inspection and recommend the repairs that are needed to improve the safety of the building. We carry out repair and maintenance services too. It all depends on the contract of work that is signed between the building owner and the Rope Access Company.
During the inspection, the technicians will check is there are any loose panels and check if the cladding material is insulated with the right material. We have the right equipment to make sure that the inspection is successfully and tools to conduct repair and maintenance services where needed.
Benefits of working with us
The inspection will be done right
An experienced and skilled professional will know how to inspect and identify any loose panels. Inexperienced professionals may not do the job well because they are still learning and may not identify all loose panels. This makes it dangerous because the building is not completely safe. We have rope access to ensure that the cladding inspection and defects are done successfully. We are able to access high heights and analyze all panels and recommend specific areas that need repair. Safety measures are recommended by legal authorities to ensure that the building users are safe. Cladding inspection is an important service in every construction because it measures the safety of the building.
Reliability
A professional is reliable because you will receive a conclusive report on areas that need repair to increase safety measures. This is why inspection must be done by skilled, licensed and qualified professionals. It is a requirement by the local authorities to regularly have cladding inspection. When you work with a licensed company, they will issue you with a report that can be presented after the inspection is done. Legal authorities only accept reports from licensed and qualified employees. We have rope access equipment to make the process easier and manageable. Rope access equipment is better than the use of traditional methods that need a lot of time to set up and uninstall.
Affordable
Site inspections done by professionals are affordable. This is because you will not require extra cost to hire another professional to verify the report. Professionals are trustworthy because they are skilled and licensed to carry out such tasks. This means that you should ensure that the company offering cladding inspection is registered. In addition, professionals have all the right rope access equipment to carry out the task. It will not cost you extra to hire equipment from another company. Rope Access Singapore is the best solution for you because we have both the rope access tools and licensed technicians.
Saves you Time
Professionals take minimal time because they know their job and they know how to use the rope access equipment to access heights. Rope access is easy to set up and uninstall after the inspection. And the inspection can be done within the shortest period possible as compared to using the traditional methods. This, in turn, will save the entire cost of the project because it will need fewer technicians. Traditional methods were expensive because they needed a lot of employees and still took more time. Rope access inspection is efficient and takes minimal time to complete a specific project.
Contact us today to find out more about our rope access inspection services and get a quotation. 
HDB Registered Contractor
License Number: HB-09-5474D